Welcome to the

Future of

Onboarding
Unlock a world of corporate knowledge with our intuitive acronym and
glossary solution.
Get Started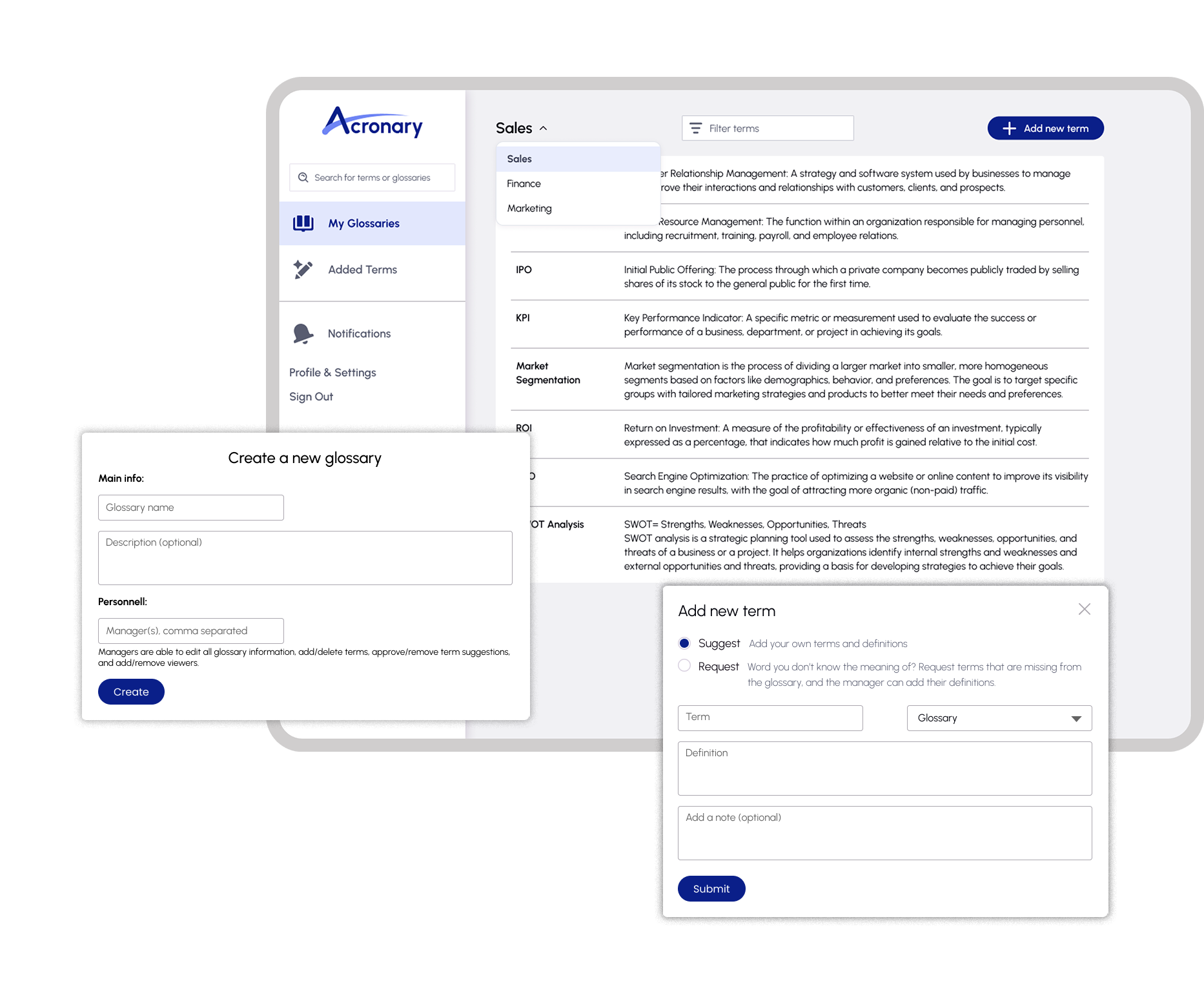 Trusted by
Key Features
Experience seamless corporate communication and onboarding with our
comprehensive glossary solution

Feature-packed Corporate Glossary
Acronary provides organizations with a centralized and customizable repository of corporate acronyms, words, and phrases.
Each glossary is tailored to the specific company's unique terminology and industry-specific jargon.
Users can easily access and search for definitions, clarifying any language-related challenges, to ensure everyone is on the same page.
Intuitive Usage
With a simple right-click, users can access instant definitions for any unfamiliar term within their corporate glossary.
This reduces the barrier to entry at a company, benefiting new hires during onboarding and aiding seasoned employees seeking clarity.
This intuitive approach fosters better communication and reduces the learning curve for employees, regardless of their tech-savviness.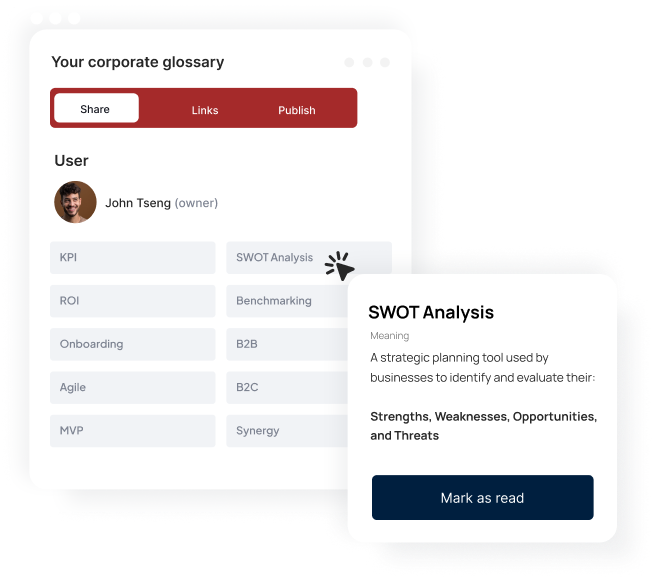 Why Choose Us?
Streamline corporate communication and onboarding effortlessly with our
thorough glossary solution.
Communication Clarity
By providing instant access to clear definitions of corporate jargon, your glossary ensures communication clarity within the organization.
Accelerated Onboarding
For new hires, your glossary significantly reduces the learning curve associated with understanding industry- or company-specific terminology.
Knowledge Management
Control who sees what jargon - preventing confusion from potentially overlapping acronyms or definitions.
Pricing Plans
Knowledge management doesn't have to break the bank.
Starter
For small companies looking to get started
1 Glossary
Email Support
Easy & Intuitive UI
Up to 10 Users
Business
For companies looking to expand their employee resources
5 Glossaries
Chrome Plugin
Up to 50 Users
Priority Support
Enterprise
For larger companies that want every feature
Unlimited Glossaries
Unlimited Users
Spreadsheet Upload
Single Sign-On
Contact us
Like what you see? Send us a message, and experience blissfully easy knowledge management.